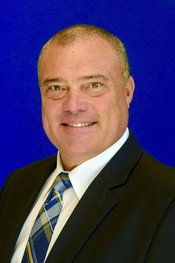 Dr. Scott Spurgeon
Superintendent
314-869-2505, Ext 20101
Dr. Scott Spurgeon is the Superintendent of Riverview Gardens School District. Dr. Spurgeon has become known for his leadership in the movements to help redefine North St. Louis County education and restore academic honor to the RGSD community.

Since Dr. Spurgeon's arrival, the once struggling district has been named an Innovative District of the Year by the International Center for Leadership in Education in 2016 and 2018, received proclamations from the St. Louis County Board of Directors, was honored as the most improved district in 2015 by Governor Jay Nixon and has gained enough points on the last three Annual Report Cards (APR) to be classified as fully accredited for points. RGSD regained provisional accreditation on January 4, 2017 after nearly ten years of being classified as an unaccredited district and has retained that accreditation level for two consecutive years. Dr. Spurgeon has excited students, staff and parents with the phrase, "It's a Great Day to be a Ram" and proud Rams are excited to work and be educated in RGSD.

Dr. Spurgeon's experience includes fifteen years of senior level leadership in the positions of assistant superintendent for curriculum, instruction, assessment, and professional development in Northwest RI School District, associate superintendent for curriculum and school leadership and interim superintendent in Rockwood School District, and superintendent in Belleville High School District #201. He has been an administrator at the elementary, middle and high school levels, including alternative education. Additionally, he has taught graduate courses for Lindenwood University. Dr. Spurgeon has also been an educational consultant providing leadership training and professional development to more than 100 school and districts across America.

Dr. Spurgeon earned a Doctorate in Educational Leadership from St. Louis University. Prior to Dr. Spurgeon's career in education, he played professional baseball with the Houston Astros organization. He is a proud husband, father and grandfather.