Gifted Education Program (REACH)
The Riverview Gardens School District is committed to an educational program that recognizes the unique values, needs, and talents of each individual student. The gifted student possesses extraordinary abilities to think both creatively and critically, and Riverview Gardens recognizes that his/her cognitive and affective needs can best be met by providing a differentiated learning environment that will allow gifted students regularly scheduled opportunities to interact with and be stimulated by their peers.

The REACH Program provides an educational climate that is conducive for nurturing the full potential of gifted students. It creates an environment in which students use their strengths, explore their personal development, risk new areas of thought and action, and feel challenged to pursue independent study.

Each of the nine elementary schools have a designated time for the REACH specialists to "pull-out" gifted students from certain classes in order to meet the state of Missouri required guidelines of 150 minutes per week of service by a certified gifted instructor. The secondary classes for 6-12 are held during designated elective times at Riverview Gardens High School, RG Central Middle School and Westview Middle School.

The curriculum is designed to challenge academically advanced learners and provide experiences that require information gathering, problem solving, critical thinking, communication skills, and technology, and are assessed as such along with responsibility. Although the curriculum is aligned with grade level expectations, it is designed to enrich and accelerate core subject matter in the content areas and incorporate real-world challenge and project based learning.

Scholars are encouraged to set personal goals and investigate their interests while working both independently and as responsible group members and leaders. In addition, the program aims to increase the students' understanding of their own personal and social responsibility, interpersonal skills, and sense of ethics.
Mission
The Riverview Gardens REACH Program will provide educational opportunities to meet gifted students' needs, abilities, and interests to lead them in their quest to become lifelong learners.
Vision
The Riverview Gardens REACH Program provides a differentiated learning environment in which the unique needs and abilities of its students are nurtured. Students are challenged to develop their cognitive and creative abilities and take intellectual risks in a supportive environment of their peers. The ultimate aim of the REACH Program is to help gifted students become autonomous learners with a lifelong desire to achieve their full potential and become constructive contributors to society.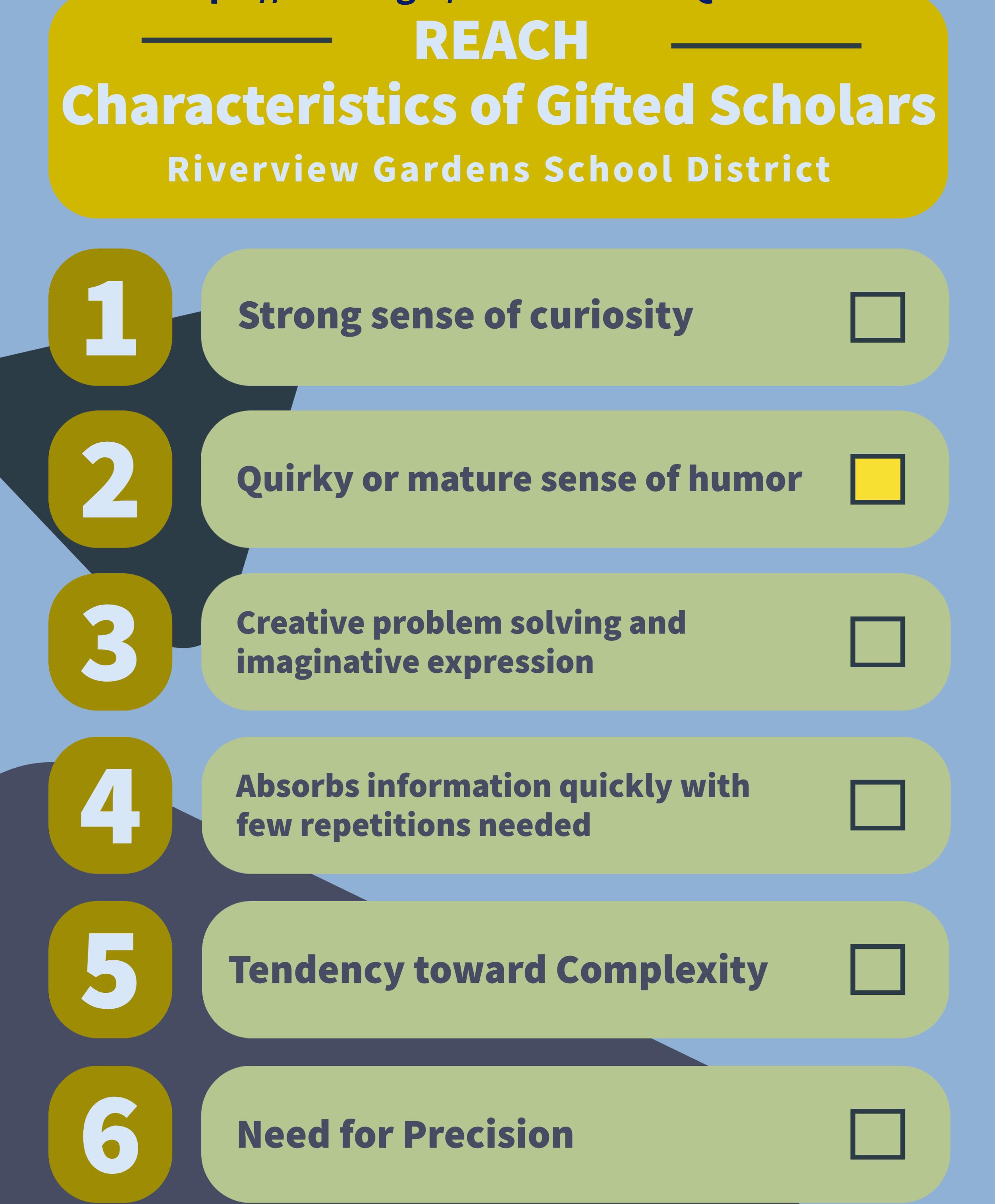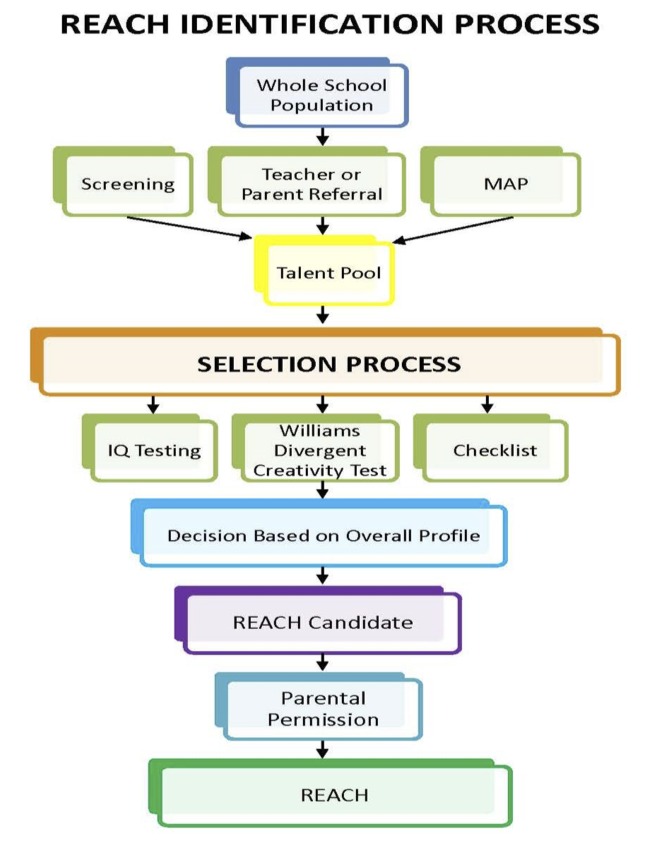 Identification Process (as pictured above).
During the first semester, the REACH specialists visit all kindergarten classrooms. A variety of informal assessments are used to help identify potential REACH scholars. Counselors may assist with this procedure when necessary.
Students entering grades one or above may be referred by a teacher, counselor, principal, or parent at any time during the school year. All potential REACH candidates must have a checklist with observable characteristics of gifted children completed to be assessed further.
Once referred and screened, candidates may be assessed with particular achievement and ability tests. If the candidate scores in the 95 percentile on an IQ test and in the range specified as a top achieving percentile compared to his/her local peers on 2 out of 3 of these assessments, the student is eligible for placement in the program.
Once a letter of parental consent has been signed, the candidate will be placed and continue in the program year after year as long as attendance and evaluations meet program expectations.
Dr. Tiffany Hunter
K-12 Science Curriculum Coordinator/Gifted Education Supervisor
Phone: 314-869-2505 (ext. 20122) Email: thunter@rgsd.k12.mo.us
Dr. Linda Smith-Harsley
K-12 Gifted Education Specialist
Phone: 314-869-2505 (ext.33137) Email: jsmith@rgsd.k12.mo.us
Ms. Jill Miesen
K-12 Gifted Education Specialist
Phone: 314-869-2505 (ext. 33128) Email: jmiesen@rgsd.k12.mo.us