Homecoming Game vs Jennings High School Canceled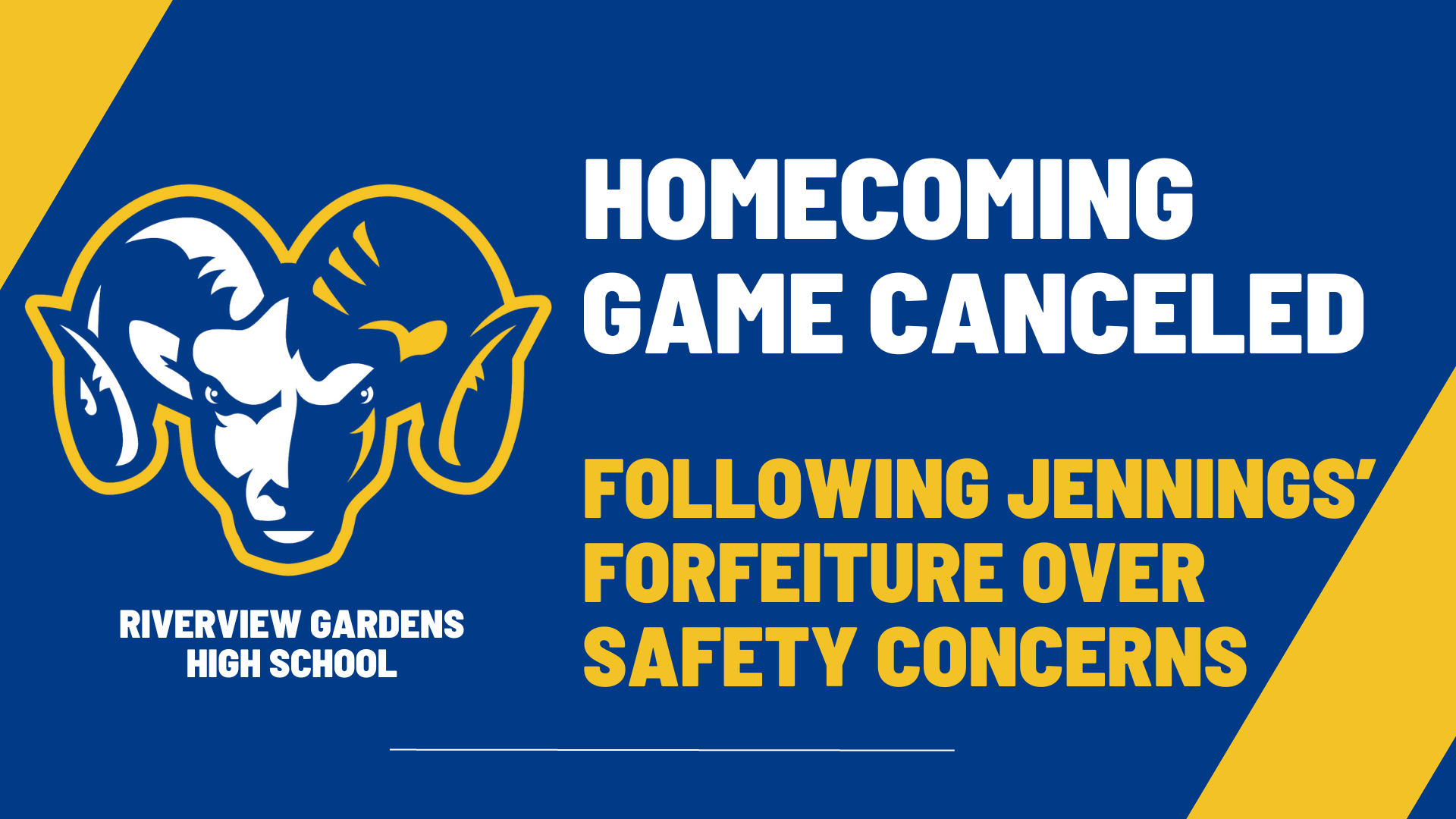 ---
Dear RGSD Stakeholders,
The Homecoming football game between the Riverview Gardens High School Rams and Jennings Warriors has been canceled following a decision by Jennings High School officials to forfeit the game due to safety concerns.
Riverview Gardens School District had announced the game would be limited to players, parents and officials, following several incidents of fighting on Tuesday, Sept. 12.
The repercussions of the events that occurred on RGHS campus are numerous. Three days of virtual learning, the cancelation of the Homecoming dance, the pep rally, the parade and now the football game.
The fallout from the incident is disappointing for our scholars, community and staff. It is our intention to provide a safe environment in which students can learn, grow and develop positive memories of their high school experience.
Scholars will return to the high school campus on Monday, Sept. 18, 2023. We expect all scholars to arrive ready to participate in learning. We will need your assistance in building a positive high school experience.
Parents, we cannot build a positive environment without your help. Please speak to your scholar about expected behaviors while at school. We all have a collective responsibility to build a positive school community.
Any students who participate in fighting, violence or behaviors that disrupt our campus will be removed and given severe consequences, ranging from suspension to expulsion. Incidents of violence may also result in legal consequences. While we intend to support all scholars, the behavior exhibited on Sept. 12 will not be tolerated.
We would also like to express that the majority of our students are focused on having a positive high school experience. We applaud those students and ask that all students join us!
Thursday night, school and district administrators met with select RGHS parents to discuss the fighting incidents and identify solutions and supports to help maintain a safe, learning-focused school environment.
Additional security and law enforcement presence will be in place for the scholars' return on Monday. School, district and community leaders will also speak directly with students at assemblies scheduled for Monday morning.
Riverview Gardens School District is committed to protecting the safety and security of scholars, staff and the entire RGSD community.
While we are disappointed in the cancelation of the game and Homecoming activities, we look forward to welcoming our scholars back onto campus. We are confident that if we all link arms, set expectations (at home and school), and assist our students in meeting those expectations, we can collaborate to provide a safe, fun, learning-focused environment that our students will be able to remember long after they graduate from RGSD!
Regards,
Joylynn Pruitt-Adams, Ed.D.
Superintendent
Riverview Gardens School District
Traci Nave
Principal
Riverview Gardens High School