Nakia King Named Principal of Westview Middle School for SY 2022-23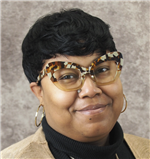 ---
Riverview Gardens School District announced the hiring of Nakia King as the principal of Westview Middle School for the 2022-2023 school year.
King will supervise the overall instructional process at Westview Middle. She will also provide instructional leadership and direction to support the professional growth of staff for positive educational change.
King currently serves as an interim assistant principal at Maplewood-Richmond Heights High School. She previously served as the principal of McKinley Classical Leadership Academy from 2018-2021 and principal of Gateway Middle School from 2016-2018.
"Nakia King brings a wealth of experience and expertise as the incoming principal at Westview Middle School," Joylynn Pruitt-Adams, Ed.D., superintendent of schools. "She is highly talented and boasts an impressive track record of success that we are confident she will continue in Riverview Gardens School District."
King earned a bachelor's of science in Education from the University of Missouri - St. Louis. She also earned a master's degree in Educational Administration and a educational administration specialist's degree from UMSL.